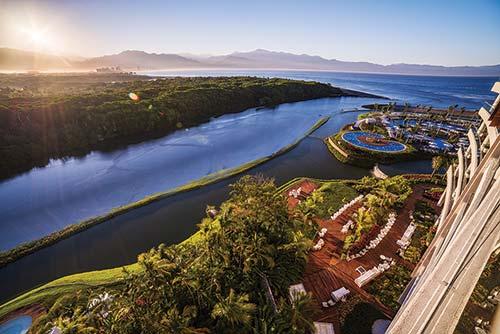 The Grand Luxxe is part of the Interval International (II) network.
Andy, Interval International Support Department Manager in Owner Relations, recently took a vacation to Mexico and stayed at the Grand Luxxe in Nuevo Vallarta. After Andy returned, we sat down with him to find out more about the resort and the adventures he went on.
What was your first impression upon entering the Grand Luxxe?
I was immediately impressed. The lobby had high ceilings, and there were numerous chandeliers that dimmed the area and really just invited you in— it was a great way to kick off my week in a relaxing way. Furthermore, the architecture presented the resort in a luxurious modern Mexican décor. In addition, there is free shuttle service to and from the airport, which was extremely nice.
What size room did you book? Can you tell me about it?
We were booked into a two-bedroom unit, and it was massive. Right out of the gate, we noticed a massage room, where you could order a private masseuse (that was really neat). We had a full gourmet kitchen and several king-size beds. In total, I would say that the unit could have slept 8–10 people. But the pinnacle of this two-bedroom unit was the balcony. The balcony had an ocean-river view and across the balcony were several lounge chairs with a lounge bed and—get this—a plunge pool! It was a cold plunge pool, and I can't tell you how nice it was to dip into on a hot day… very refreshing.
How was the customer service?
By far, hands down, definitely one of the best customer service experiences I've ever witnessed. From the moment we walked in to the time we walked out, we were treated exceptionally well. There was the "fun squad," looking to see if they could start activities, for instance, a volleyball game. There were servicemen walking around offering cold towels on silver platters and people willing to clean your sunglasses. One of my favorite things were these carts that traveled around the property with bartenders hand-making margaritas. These carts also offered some really tasty flavored popsicles. Finally, a concierge agent on every floor was there on the pulse, ready to reserve anything from fishing trips and tequila tours to tee-times and restaurants. In fact, we went out a few times—and you would think Mexico would mostly have Mexican eateries, but you had the world to choose from: French, Italian, grilled Americana—it was all very delicious, without being overpriced.
What was it like walking around the resort?
Every day had its own entertainment theme, and each night the resort presented live music on the beach. Also, the aquatic facilities were well-made. Between the 11 pools (some family-friendly and others adult-only), there was always a place to swim or nap in a cabana. Something I thought was neat were these small library-type areas to pick out a book or two.
Did you mostly kick back or did you explore the area?
We did a tad bit of that. We took a fishing trip, which was great for the kids. But the fish happened to not be biting much that afternoon. I also went out on a catamaran excursion. But honestly, we stayed on the resort a ton; it was just so hard to leave because it was so comfortable.
Is there anything else that you want to tell our owners?
Thanks, and yes! I was thoroughly impressed with the technical features behind the resort: you can download its app that would inform you of the daily activities and ongoing drink and food specials, and even had GPS location services that would tell you your location and the walking distance to other areas around the property—that last one was is probably my favorite aspect of the Grand Luxxe just because the resort is quite large and that was a very useful tool. I really think our owners would love to stay at the Grand Luxxe.
Well, Andy, that certainly sounded like a blast. Thank you for your time today.
Thank you.
http://blog.breckenridgegrandvacations.com/wp-content/uploads/2010/02/nv2.jpg
165
340
Breckenridge Grand Vacations
http://blog.breckenridgegrandvacations.com/wp-content/uploads/2016/07/BGV_horizontal_4c-300x102.jpg
Breckenridge Grand Vacations
2018-05-08 09:00:49
2018-05-08 17:06:18
Grand Luxxe Nuevo Vallarta