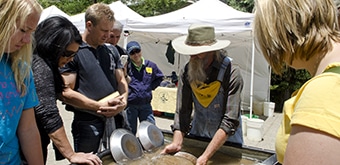 This weekend is going to be a busy one, with Kingdom Days and the Frisco BBQ the street will be buzzing with people. Each event has a special history with Summit County and plenty to offer for all ages.
Frisco BBQ Challenege: June 18-20 | Main Street, Frisco, CO
The Frisco BBQ is a local favorite and a perfect opportunity to stuff yourself with way to much BBQ and since calories don't count on vacation the timing couldn't be better. BBQ masters from all over the US make their way here to show off their best pork, ribs, BBQ sauce and talent. Between bites of food you can watch the pig racing (which is adorable if you like watching little pigs jump over hurdles), listen to live music or just make your way to the next scrumptious food stand. Hogbacks will be your form of currency and they can be purchased at multiple stands throughout Main Street. Credit cards are accepted for Hogback purchase. Parking is difficult to find due to the number of people at this event. We would encourage all guests staying in Breckenridge to use the Summit Stage, ride a bike or take Uber to get to this event. For more information about the Frisco BBQ go here.
Kingdom Days: June 19-21 | Main Street, Breckenridge, CO
There was a small period in time where Breckenridge was accidentally not included on maps. To locals this made the town extra special because their gem of a living location was now their own special kingdom that no one knew of, leading to referencing Breckenridge as the Kingdom. We take a weekend every year to celebrate this accident by bringing back the old traditions of gold panning, historic dress, and outhouse races (okay that isn't really an old tradition). You can also participate in historical tours, hiking tours, distillery tours, and much more. For a full list of events go here.
http://blog.breckenridgegrandvacations.com/wp-content/uploads/2015/06/2012-Kingdom-Days-16.jpg
165
340
Breckenridge Grand Vacations
http://blog.breckenridgegrandvacations.com/wp-content/uploads/2016/07/BGV_horizontal_4c-300x102.jpg
Breckenridge Grand Vacations
2015-06-17 15:16:59
2015-06-29 13:57:19
Weekend Preview: Kingdom Days & Frisco BBQ