Colorado High Alpine Wildlife
One of the things the many things that make Colorado so magical is the assortment of creatures that call the centennial state home! From the trout that swim in our rivers to evasive big cats, from gigantic moose to the tiny chipmunk, our wildlife is varied and plentiful. While there are hundreds of species in Colorado, these are a few that can be found in or around our mountain community. On your next trip to the mountains, keep your eyes and ears open for these amazing animals. Remember to respect their space and keep the wild, wild! 
Information for this post was gathered from Colorado Parks & Wildlife. Learn more about CPW here!
Black Bear
Ursus Americanus 
Despite its name, Black Bear refers to the species rather than the color. Black bears can be honey, blonde, brown, cinnamon, or black. Black bears are common throughout the mountainous regions of the state and are the largest carnivore in Colorado. Males can weigh 275 pounds, and females weigh 175. Bears are foragers and eat berries, nuts, seeds, and insects. It is important to make sure you are disposing of garbage in bear-safe trash cans or dumpsters and avoid leaving food in your vehicles! Bears will change their habits to seek out human food once they have been introduced by careless human handling.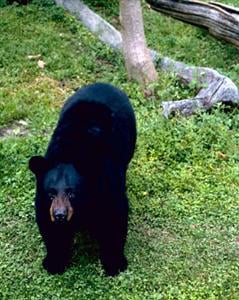 Mountain Lion
Felis Concolor
This big cat is Colorado's largest- males are more than six feet long and weigh over 130 pounds and are tannish in color. They are carnivorous and voracious hunters- consuming about one deer per week. Their habitat in Colorado is primarily in foothills, canyons, and mesas but can be found in high-mountain environments as well. They prefer brushy areas or woodlands. They are very stealthy- you are very unlikely to spot one!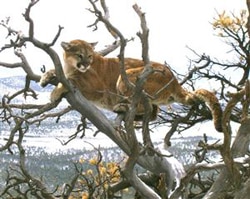 Bobcat
Felis Refus
The mountain lion isn't the only big cat that calls Colorado home! Even stealthier than the mountain lion, the bobcat is very secretive. They are about three feet long and look very similar to the lynx. Bobcat is very common in North America and their habitat ranges from Canada to central Mexico. They are found statewide in Colorado. Most commonly they are found in foothills, mesas, canyons, and plateaus. Their favorite food is rabbits, but will diet on any small mammal- they aren't picky!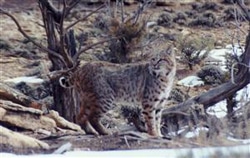 Lynx
Lynx Canadensis
The lynx disappeared from Colorado around 1973 but has been successfully reintroduced! Reintroduction began in the remote San Juan mountains and the animals have spread throughout the high country. Similar in appearance to the bobcat and often mistaken for spotted mountain lion cubs, lynx are 20-30 pounds, grayish and spotted. They have very recognizable tufts of fur on their ears. This carnivorous species also feast on small mammal prey such as snowshoe hare. Their huge hind feet help them move through the snow!
Gray Wolf
Canis Lupus
The gray wolf or timberwolf no longer live in Colorado. Wolves once fed upon bison, elk, deer, rabbits, rodents, and more. After large mammals such as bison were decimated, wolves turned to livestock to supplement their diet. Because of this, wolves were eradicated throughout the state. There have been proposals and legislation to reintroduce wolves to Colorado. Wolves could help to restore wilderness ecosystems to provide a check for populations of elk and deer. Many ranchers are opposed to reintroduction. Follow this Colorado Parks & Wildlife page for up-to-date information on reintroduction.