Trail Name: Mohawk Lakes
Trail Length: 6.8 miles round-trip (to Lower Mohawk)
Trail difficulty: Moderate
Elevation gain: 1800 feet
Best time to hike: July – September
Good for: Adults, kids and anyone in reasonable shape
Dog Friendly: Yes
Starting Trailhead: Spruce Creek Trailhead
Mohawk Lakes is a stunning hike that will take you through the trees, up an incline and end at mountain lakes. This hike is suited for all ages, but does have steep inclines that you will need to take your time on. We would not recommend this hike for anyone that struggles with altitude sickness or is not in reasonable shape.
You will want to bring water, snacks, sunscreen, layers and wear hiking shoes for this hike. This is a 6.8 miles round-trip hike (to Lower Mohawk) topping out at an elevation of 12,073′. It cannot be stressed enough how important having proper hydration for this hike is. If you are worried about any possibility of altitude sickness pack a Gatorade as well.
You will begin your hike at the Spruce Creek Trailhead. The Spruce Creek Trailhead is located south of Breckenridge off Highway 9. Coming from Breckenridge you will make a right hand turn onto Spruce Creek Road and follow that for about 1.2 miles until reach the trailhead. This is an extremely popular hike, so prepare to park along the side of the road before you reach the trailhead. The road continues past the trailhead, but it gets rocky and narrow. Do not continue on this road unless you have 4 wheel drive.
From the Spruce Creek Trailhead you will begin your hike and pass through aspen, fur and spruce trees until you reach a crossing. This trail will dump you out at a road and it will appear that you have come to the end of the hike, but you will want to follow the road up to a dam where the trail picks back up (this may sounds confusing, but it's a really easy to follow).
After the trail picks back up you will reach the beginning of the big incline. Take your time and stop when needed. You will pass a sign for Mayflower Lake, and eventually get to the Continental Falls view trail and mining ruins. I recommend taking a small detour and checking out the Continental Falls view point (you really don't want to miss this). After taking a family photo in the falls head back on the trail and prepare to make some more gains in elevation. The trail will turn into long switchbacks that are rather rocky.
After making some major gains in elevation you will reach an area called Lower Continental falls Vista where there will be a old mining cable. From here the trail can get a little tricky so make sure to keep your eyes open for carins (large piles of rocks that indicate where the trail goes). You will follow the rocky trail and hit a dirt trail. Keep following this and it will take you right to the Lower Mohawk Lake! If you are up for a little more hiking (about .5 mile each way) keep following the trail and you will reach the Upper Mohawk Lake.
Looking for a new, magical adventure on your next visit to Breckenridge? Find your way to the hidden Fairy Forest! Located between Peaks 8 and 9, this three-mile hike is a great activity to do with kids and see some unique fairy house creat…
https://blog.breckenridgegrandvacations.com/wp-content/uploads/2019/08/Fairy-Forest-FI.jpg
165
340
Breckenridge Grand Vacations
http://blog.breckenridgegrandvacations.com/wp-content/uploads/2016/07/BGV_horizontal_4c-300x102.jpg
Breckenridge Grand Vacations
2019-08-08 10:35:12
2019-08-08 10:37:31
Fairy Forest Hike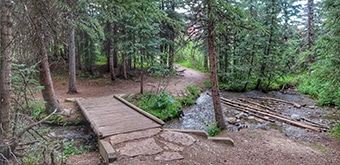 Right at the base of Peak 9, the Burro Trail is a scenic out and back.  Make it as long as you want, the full trail ends at Spruce Creek trail.  Best traveled Mid-June to early October.  Takes approximately 45 minutes to one hour one way,…
https://blog.breckenridgegrandvacations.com/wp-content/uploads/2019/07/BurroTrail.jpg
165
340
Breckenridge Grand Vacations
http://blog.breckenridgegrandvacations.com/wp-content/uploads/2016/07/BGV_horizontal_4c-300x102.jpg
Breckenridge Grand Vacations
2019-07-10 11:10:44
2019-07-10 11:28:43
Burro Trail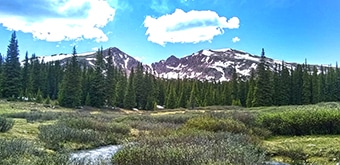 To get to the Meadow Creek trailhead from Breckenridge, take Highway 9 towards Frisco. Drive straight through Frisco and do not turn until you reach the roundabout next to I-70. Drive around the roundabout and take the turn directly before the…
https://blog.breckenridgegrandvacations.com/wp-content/uploads/2018/07/FI.jpg
165
340
Breckenridge Grand Vacations
http://blog.breckenridgegrandvacations.com/wp-content/uploads/2016/07/BGV_horizontal_4c-300x102.jpg
Breckenridge Grand Vacations
2018-07-02 09:57:04
2018-08-09 11:20:22
Meadow Creek Trail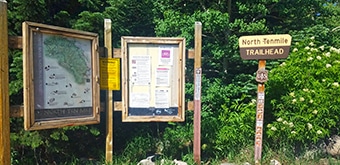 Visiting the mountains or have family and friends in town? Looking to enjoy the beautiful outdoors and scenic views that Colorado has to offer? North Tenmile Creek is the perfect hike to start your adventures. This 6.5-mile round-trip hike with…
https://blog.breckenridgegrandvacations.com/wp-content/uploads/2018/06/TenMile-FI.jpg
165
340
Breckenridge Grand Vacations
http://blog.breckenridgegrandvacations.com/wp-content/uploads/2016/07/BGV_horizontal_4c-300x102.jpg
Breckenridge Grand Vacations
2018-06-22 14:24:11
2018-08-09 12:03:39
North Tenmile Creek Trail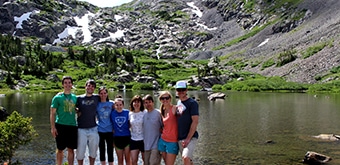 Mohawk Lakes is a stunning hike that will take you through the trees, up an incline and end at mountain lakes. This hike is suited for all ages, but does have steep inclines that you will need to take your time on. We would not recommend this…
https://blog.breckenridgegrandvacations.com/wp-content/uploads/2015/08/Mohakw-Lakes_FI.jpg
165
340
Breckenridge Grand Vacations
http://blog.breckenridgegrandvacations.com/wp-content/uploads/2016/07/BGV_horizontal_4c-300x102.jpg
Breckenridge Grand Vacations
2015-08-06 12:06:38
2018-08-09 14:21:04
Trail Highlight: Mohawk Lakes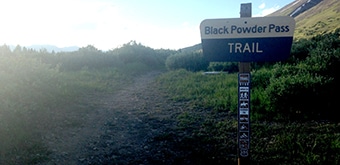 Located at the top of Boreas Pass this is a trail with views for days. While not the best marked, this is a perfect trail for those seeking a little adventure. With wildflowers and tree stumps covering the hillsides, this is a stunning trail. We…
https://blog.breckenridgegrandvacations.com/wp-content/uploads/2015/07/FI2.jpg
165
340
Breckenridge Grand Vacations
http://blog.breckenridgegrandvacations.com/wp-content/uploads/2016/07/BGV_horizontal_4c-300x102.jpg
Breckenridge Grand Vacations
2015-07-28 16:29:03
2019-07-10 11:17:46
Trail Highlight: Black Powder Pass
Located right beside the Snowflake Lift, this short 1.5 mile hike is great for the little ones. This low elevation trail has a running stream winding alongside all the way to the end destination. At the end you will find a small natural reservoir…
https://blog.breckenridgegrandvacations.com/wp-content/uploads/2015/07/FI.jpg
165
340
Breckenridge Grand Vacations
http://blog.breckenridgegrandvacations.com/wp-content/uploads/2016/07/BGV_horizontal_4c-300x102.jpg
Breckenridge Grand Vacations
2015-07-15 13:50:59
2019-07-10 11:18:17
Trail Highlight: Sawmill Trail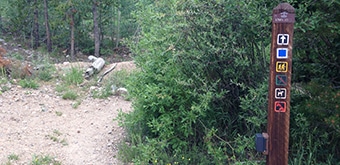 Looking for a hike that is entertaining for all ages? Check the Iowa Hill Trail. This 1.2 miles trail is full of action from start to finish. If you are lucky, you may even run into a moose friend along the way. Every few feet you will find…
https://blog.breckenridgegrandvacations.com/wp-content/uploads/2015/07/Iowa_Hill_FI.jpg
165
340
Breckenridge Grand Vacations
http://blog.breckenridgegrandvacations.com/wp-content/uploads/2016/07/BGV_horizontal_4c-300x102.jpg
Breckenridge Grand Vacations
2015-07-08 14:07:44
2018-08-09 14:26:33
Trail Highlight: Iowa Hill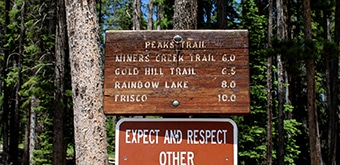 The Peaks Trail is an extremely well known trail in Breckenridge. Located at up Ski Hill Road right beside Grand Lodge on Peak 7 you will find biking and hiking for all. This 15.6 miles trail stretches from Breckenridge to Frisco. There are…
https://blog.breckenridgegrandvacations.com/wp-content/uploads/2015/06/Peaks_Trail_FI.jpg
165
340
Breckenridge Grand Vacations
http://blog.breckenridgegrandvacations.com/wp-content/uploads/2016/07/BGV_horizontal_4c-300x102.jpg
Breckenridge Grand Vacations
2015-06-24 13:21:43
2018-08-09 14:25:05
Trail Highlight: Peaks Trail