Breckenridge is open!
We have been eagerly awaiting the opportunity to say these three words and are grateful beyond measure to have greeted our first guests on June 1. Breckenridge Grand Vacations (BGV) as a whole, has shown great resilience during this time and our employees have been nothing short of amazing in readying our resorts for your next stay with us.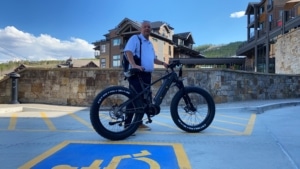 We have been making necessary changes and with that, we wanted to provide you a little show-and-tell with what you can expect upon arriving at there resorts and here in Breckenridge. Almost every retail store, restaurant and outfitter are open and ready for business. A portion of Main street has converted to a pedestrian-friendly walkway and is more inviting than ever before!
The trails are open, the golf course is in great shape and I even picked up an e-bike for myself to commute to the office and properties this summer. Take a look at the video on "what to expect" when you next arrive.
It pleases me more than ever to say welcome back to your home in the mountains. We have missed you!
Sincerely,
Mike Dudick
CEO